After we got back from dinner last night and got the kids down, I flipped the Oscars on - my favorite part is seeing all the gorgeous dresses! I had forgotten that Ellen was hosting - she was a riot!
We started going through all our kid stuff and beginning the shuffle of craziness to prepare for BC3 yesterday - and I sat down to go through all the toys in the living room. I payed attention just in time to see the #EllenSelfie take place. It was hilarious! That had to be my favorite part of the show for sure. Just look at that star-studded picture...it is no wonder they set a new Twitter record!
And of course the dresses. Oh, the dresses. Just look how beautiful these ladies look!
And I found both of these collages already put together online, so excuse the fact that Jennifer Lawrence is shown twice. She probably deserves it though since she managed to fall for a second year in a row! :)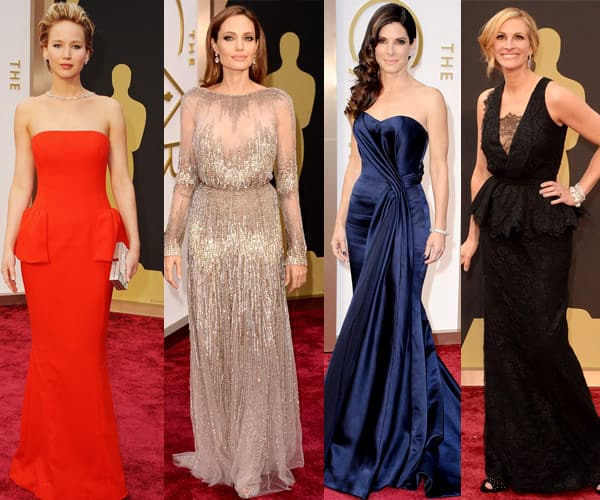 My favorites? Well I would have to say Sandra Bullock looked amazing - and love her dress!
And Cate Blanchett looked absolutely stunning in her nude dress.
Another part of the show that I have started paying more attention to is the acceptance speeches. Of course I was in and out of the room, but I caught both of these and thought they were fantastic.
Lupita Nyong'o had such a moving speech. My favorite was the last line of her speech.
When I look down at this golden statue, may it remind me and every little child that no matter where you're from, your dreams are valid. Thank you.
And I was really impressed by Matthew McConaughey's acceptance speech as well! Aside from the fact that I have had a crush on him for years and years, and I could listen to him talk for days on end and never tire of it :) His speech referenced the three things he needed to survive: God, his family, and someone to look up to as a hero.
And then? Well, he ended it perfectly.
Alright, alright, alright. :)
And as a sidenote, may I just mention that it may have taken a little longer to put this post together because it was so entertaining scrolling through pictures of this guy. Whew. Never.gets.old. And I'm so glad he is putting on some weight. He was scary looking in his role in Dallas Buyer's Club.
Now, I need to make a list of the nominated movies I need to see. I am fairly certain Frozen is the only movie discussed last night that I have actually seen - ha!